Free Trade Zone (FTZ)
In order to develop a global operation and management model and to ensure a free and international trade system, the government has promulgated the Act for the Establishment and Management of Free trade zones, which take effect on July 23rd 2003. It is hoped that the establishment of free trade harbor areas can enhance the competitiveness of Taiwan's economy. To facilitate the development of FTZs by reducing operating costs and improving efficiency, an amendment to the Enforcement Rules was made and announced on July 8, 2009.
There are now 7 harbor areas in operation as authorized by the Executive Yuan, including 6 sea harbors and 1 air harbor: Keelung Port Free Trade Zone, Taipei Port Free Trade Zone, Taichung Port Free Trade Zone, Kaohsiung Port Free Trade Zone, Su-ao Port Free Trade Zone, An-ping Port Free Trade Zone and Taoyuan Air Cargo Park Free Trade Zone.
Through comparison, you will discover and realize that among more than 600 Free Trade Zones and similar special administrative regions throughout the world, Taiwan FTZ is the most competitive. Free Trade Zones and special administrative regions are located and distributed throughout Asia, from Singapore, Hong Kong, Mainland China, Japan, Korea, to the Philippines.
The unique geographical advantage, strong transport capacities, the highly efficient customs clearance system, strong manufacturing capabilities, and the extraordinary B2B infrastructure of Taiwan enable enterprises to integrate business flow, logistics, cash flow, and information flow with swift processes in manufacturing, ordering, transport and sales to meet the demand of supply chain.
Taiwan has already established production bases in countries around the world. In terms of the size of the vendors, the goal of becoming a global business operational center has already been accomplished. The FTZ and Taiwan's manufacturing capabilities are complementary to each other, making this one of Taiwan FTZ's unique advantage. At the same time, new tools such as communication technology help master information for goods circulation. Together with mobile management and risk management skills, further operational convenience and safety control is achievable.
A comparison of Free Trade Zones in Asia
Features/
Region
Aims
Business Tax
Operating Authority
Businesses
Taiwan
Global
operational
management
mode.
Enhancing
national competiveness
17%
Private,
single window
Import, export,re-export trade,storage, labeling,dismounting,re-packaging,assembling,testing,classification, and in-depth processing and manufacturing
Singapore
The center of logistics
17%
Private,single window
Mainly e-export
Korea
The central
22%
Central or local government,single window
Storage, sales,simple processing, product maintenance, international logistics
Mainland China
The center of commodities gathering and resources distribution in the Asia Pacific region
25%
Local government
Processing,manufacturing,and international trade
Japan (Okinawa)
International interaction stronghold in Southern Japan
30%
Local government
Processing,manufacturing,re-export,and storage
Philippines
The logistics central base in the Asia Pacific region
---
Central unit,single window
Import, export,and re-export
Features/
Region
Customs Clearance
Circulation of Commodities
Incentives
Business Solicitation Approaches
Taiwan
Report
Free access within the FTZ, self-management by manufacturers
Provided with incentives
Responsible by dedicated units
Singapore
Customs declaration
Free access, self-management, re-packaging, labeling, assembling
Provided with incentives
Responsible by dedicated units
Korea
Customs declaration
Free access,self-management,re-export, storage,re-packaging,labeling,direct processing,displaying,re-export
Tax exemption and investment incentives
---
Mainland China
Customs declaration
Self-management,bonded, labeling,assembling
Consistent nationwide incentives, and local customized incentives
---
Japan (Okinawa)
Customs declaration
Free access,bonded,re-packaging,labeling,assembling
Tax incentives,grants, low interest financing, and regional development preferential
---
Philippines
Customs declaration
Free access,self-management,bonded,re-packaging,labeling,assembling
Provided with incentives
---
Source: Based on "Free Trade Zone Planning and the Research on Practices of the Relevant Countries", Council for Economic Planning and Development.
FTZs are designed based on the principle of "within national territory but outside customs territory." The purpose of their establishment is to eliminate the barriers to the flow of goods, capital and people in international trade. It is hoped that with the integration of the supply chain and the convenience of harbors, enterprises can be more competitive.
The characters and advantages of free trade harbor areas can be categorized as follows: operation, efficiency, cost and service.
Operation-wise, 19 industries are allowed in FTZs. They are trade, storage, logistics, cargo management, transshipment, transfer, outsourced delivery, custom declaration, fabrication, reassembly, packaging, repair, assembly, processing, manufacturing, inspection, testing, exhibition and technical services. Enterprises can operate in the areas in the form of subsidiary companies, operating offices or departments. As there are lots of choices on the legal form of business to operate, enterprises may have more flexibility in running a business and thus become more competitive.
Efficiency-wise, to expedite the flow of goods, the government imposes fewer administrative controls in FTZs. Companies in FTZs may engage in commodity control, on-line custom clearance and accounting on their own terms. There is a high level of autonomic management in contrast to loose administrative controls from the government. Inspection is spared for custom clearance when cargoes are shipped to or from FTZs. The same principle also applies to any transfer from one FTHA to another. Reports on the total flow of commodity between a FTHA and a domestic taxed area or a bonded area may be filed on a monthly basis to enhance the efficiency. In addition, to grant greater convenience and to simplify the process of arrival, foreign business visitors may request companies in FTZs to apply for "optional visa upon arrival" from competent agencies.
Cost-wise, in FTZs, businesses may increase the proportion of foreign laborers to up to 40% of their employees. Other tax reduction measures include an exemption of custom, commodity tax, business tax, trade promotion service fee and harbor service fee on commodities and equipments. To invigorate the supply chain, business tax rate is reduced to zero for transactions of commodities, equipments and services between FTZs and domestic taxed areas or bonded areas. Government-owned businesses that register or commission storage and preliminary processing to companies in FTZs for subsequent transactions with domestic or foreign clients may be exempted from profit-seeking enterprise income tax in this regard.
Service-wise, the Ministry of Transportation and Communication formed a "Free Trade Harbor Area Promotion Task Force" to deliberate on the policies pertaining to the development of FTZs. The task force is also responsible for coordination among different government agencies. A "Free Trade Harbor Area Operation Task Force" is formed in each harbor area. Each task force not only provides single-counter administrative services, but also supervises all related businesses in its respective area.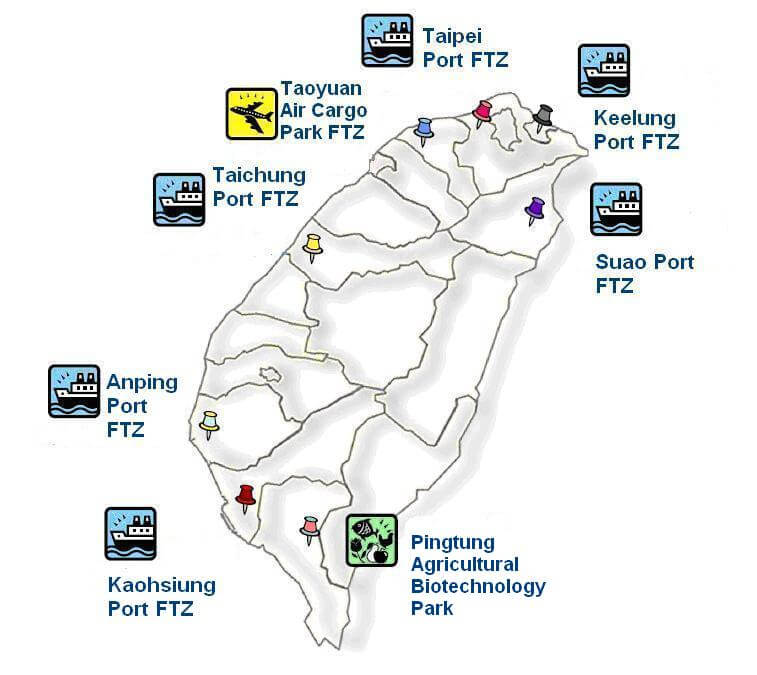 The Features of the Seven FTZs
Keelung Port Free Trade Zone
The area of Keelung Port Free Trade Zone ranges from East 6 to East 22 on the East Bank of Keelung Harbor and West 7 to West 33 on the West Bank. Keelung Port Free Trade Zone was established by Keelung Harbor Bureau and its total area is 71.16 hectares.
Keelung Port is close to metropolitan Taipei, the center of consumption and politics in Northern Taiwan. The port is also surrounded and supported by science parks in Xizhi, Nangang, and Neihu, and industrial parks in Dawulun, Ruifang, and Liudu.
Keelung Port FTZ enables the marine shipping, international logistics, warehousing, large wholesalers, and multinational import and export traders to use the port as an operational base. In addition, it promotes a streamlining procedure of transport, distribution, rallying, multinational cannibalization, simple processing, and in-depth value-added processing to help enterprises save considerable time and significantly enhance their operational efficiency. Industries involved in storage, logistics, assembling, rallying, packaging, simple processing, freight forwarding, transshipment, and transport are particularly suitable to be located in Keelung Port. The clustering effect has already taken place among some industries.
Advantages
Direct connections to Freeways 1 and 3.
Consists of a network of routes on both East and West Banks; providing convenient transportation.
Close to the center of consumption and politics in Northern Taiwan.
Holds 52% of Taiwan resources.
Neighboring container terminals and large industrial zones.
Established lane recognition system; automatic control of door posts implemented.
Implementation of container (goods) dynamic system to master real-time information for containers(goods). Supported by CCTV monitoring system.
Kaohsiung Port Free Trade Zone
The scope of the Kaohsiung Port Free Trade Zone ranges from Terminals 1 through 5, and covers a total area of 415 hectares. It was established by the Kaohsiung Harbor Bureau.
In accordance with the new energy policy declared by the government, Kaohsiung Harbor Bureau is planning to purchase a plot of reclaimed land under the Kaohsiung City's South Star Project to establish a solar energy industrial district in the Free Trade Zone. Furthermore, it will introduce the oil platform assembly operation and set up a typical mode of operation by combining domestic manufacturing with Free Trade Zone logistics added values, a typical sub-contractor production model in the FTZ.
Kaohsiung is located in Southern Taiwan, known for agriculture, fishery, and herding. It utilizes the most advanced multi-temperature layer of frozen logistics and warehousing facilities. By adding agriculture, fishery, and herding into the early harvest list of ECFA, the 'Express Operation' logistics will become a key feature for Kaohsiung Port in the future.
The container terminals of the Kaohsiung Port Free Trade Zone are only three kilometers from Siaogang International Airport.
Convenient land transportation links are available through the Provisional Highway 17, the Sun Yat-sen Freeway, National Expressway 10, and Freeway 3. The industrial areas that are close to Kaohsiung Port include those of Tainan City, Tainan County, Kaohsiung, and Pingtung County.
The areas around Kaohsiung City encompass the export processing zone of the MOEA, the Southern Taiwan Science Park, YES Logistics Corp. of the Yang Ming Group, inland container terminals and seven export zones including Kaohsiung, Nanzih, Chenggong, Kaohsiung Air Cargo, Linguang, Kaohsiung Software Technology, and Pingtung. Nearby industrial clusters include: the steel industry centered around China Steel, the shipping industry centered around China shipbuilding and biotechnology clusters in the Southern Taiwan Science Park.
Advantages
Privatization of the stack port operations; high efficiency, low cost, and good quality of service.
Combined with offshore shipping center. Expanding operational functions of added-value in restructuring and processing.
Covers a large surface area and a vast hinterland. Cooperates with neighboring industries for a multiplier effect.
Each container terminal is only 2 kilometers from the Highway, and 3 kilometers from Siaogang International Airport; transportation is very convenient.
Implements automatic access control system, and is connected to Trade-Van cargo dynamical system. By having the 'electronic data transfer operation' processed through the information platform reduces the entry and exit time of each vehicle, speeds up the transfer time, and eliminates manual re-counter escorting.
Taichung Port Free Trade Zone
Taichung Port Free Trade Zone covers a total area of 536 hectares and ranges from Wharves 1 to 18, 20A to 46 and West 1 to West 7 yards. It was established by the Taichung Harbor Bureau. Another 82.55 hectares of land belonging to the Port's Professional Industries Areas are likely to be included into the Free Trade Zone.
Taichung Port is situated in Central Taiwan and is connected with Cingcyuangang International Airport by an expressway, making it highly convenient for sea/air joint shipment. It is also situated at the midway point on the Shanghai - Hong Kong shipping route. Taichung Port FTZ is relatively close to all the harbors on Mainland China's Southeastern coast. This gives Taichung Port a unique advantage to serve direct shipping between Taiwan and China, once such shipping is instituted.
Taichung Port FTZ and its neighbors, Taichung Harbor Export Processing Zone, Taichung Harbor Industrial Zone, Changhua Coastal Industrial Park, Central Taiwan Science Park, Taichung Industrial Park, Machinery Technology Industrial Park, and Tanzih Export Processing Zone, have formed a regional cluster for the purpose of offering storage, reassembling and simple processing. The result is a repackaging and distribution center, regional re-export processing center, and a logistics support center that can greatly add to the value of goods.
In combination with the advantages of the Free Trade Zone, the status of industries within the Taichung Port region will be upgraded from "domestic logistics" to "international logistics". The port's "terminal handling, goods transferring and storage" and its "production and processing" will be integrated into one.
Advantages
Covers wide area; greater regional processing and re-export logistics potential.
Connected to a fast and convenient highway system.
Located next to various industrial zones and export processing zones.
Privatization of the port operations.
Informatization of the port management.
Taipei Port Free Trade Zone
The area of Taipei Port FTZ is 79 hectares. It was established by Keelung Harbor Bureau, Taipei Branch. Taipei Port encompasses a total area of 3,102 hectares, and will be subsumed into the operational range of the Free Trade Zone in accordance with the construction schedule of the Taipei Port Container Terminal and the Port infrastructure process.
Taipei Port features a vast hinterland, making it five times the size of Keelung Port. It currently operates as a key supply chain node for automobile logistics and chemical oils. In the future, the large container terminal, bulk center, and oil storage center will be developed for the purpose of offshore logistics warehousing, hydrophilic recreation, recreational shipping, and logistics center development.
Taipei Port Free Trade Zone is close to the metropolitan city of Taipei. Neighboring large industrial zones at Tucheng, Wugu, Linkou, and Shulin, it is abundant in resources. Furthermore, it is only 23 kilometers from Taoyuan International Airport.
Advantages
Features a vast hinterland and adequate water depth.
Located near Taipei; abundant in resources.
Adopts business theories on a commercial, informational and automatic basis.
Located near Taoyuan International Airport; providing a convenient transport network.
Taoyuan Air Cargo Park Free Trade Zone
It is suitable for high value add electronic components and IT industries and has the functions in integrating air cargo, logistics value add, operation and storage. It's main area contains air cargo stations, storage buildings, value add parks, logistics centers and operation centers. The total area is 34.85 hectares and current first operation area is 13.75 hectares.
Land available for business investment: 1st value-add park total area is 82,985m2 (25,103 square meter), available leasing area 58,475m2 (17,689 square meter).
Cargo station in the port zone establishment and operation plan for 2nd will be proposed in January 1, 2015 and the investment of all facilities in the port zone for 3rd will be established completely before December 31, 2018.
Su-ao Port Free Trade Zone
Su-ao Port's application for transforming itself into a Free Trade Zone won preliminary approval from the Ministry of Transportation and Communications on September 13, 2010, becoming Taiwan's sixth Free Trade Zone. Its operational area ranges from Wharves 1 to 13 in the control area to the warehousing facilities in the back line. The area includes three general yards, one container yard, and the first and second logistics zones. The port encompasses a total area of 71.5 hectares.
Su-ao Port Free Trade Zone has already attracted a 'Green Energy' cluster and managed to solicit approximately $25 million in investment. In addition to the introduction of an international logistics center and industries related to green energy, Su-ao Port Free Trade Zone is expected to combine multiple areas outside the region and develop links with Lung Te (&Letzer) Industrial Park in the future, for the purpose of activating a clustering effect in the Lanyang region by connecting supply chains through an outsourcing process, and via Su-ao Port's international transportation facilities and services.
Advantages
Attracts green energy industries (Development of Green cluster).
Located near Lung Te (&Letzer) Industrial Park and Yilan Science Park.
Located near the metropolitan area of Northern Taiwan (40 minutes from Taipei).
Provides convenient transportation. Connects to the Northern region via Highways 2 and 5, and to the Hua Tung region via Highway 9.
An-ping Port Free Trade Zone
An-ping Port's application won the Executive Yuan's approval on August 20, 2013 to become Taiwan's seventh Free Trade Zone. Its operational area is the control zone which includes industrial park wharves (Wharves 1 to 7), 5th re-planning district (Wharves 8 to 12, wharves 10 to 12 have not yet established) and fourkunshen wharves zone (Wharves 22 to 31, wharves 24 to 26 have not yet established). The port encompasses a total area of 72.1 hectares.
An-ping Port Free Trade Zone can not only expand the operation scale and development space of our current free trade zones for providing the sustainable operation environment to shipping companies and logistics enterprises, but integrate the nearby industrial parks, the agricultural production base and the deep processing and manufacturing function of the science industrial parks to implement the operation mode of "front store back factory" which can create the continuous production advantage of manufacturing, warehouse, logistics, transshipment, transport, simple processing, outsourced manufacturing and customs, and shorten goods supply time and save the transportation cost.
An-ping Port Free Trade Zone can use the Expressway 86 via Tainan City outer ring roads (Provincial Routes 1 and 17) connecting to the nearby industrial parks of An-ping port, science industrial park, agricultural biotechnology park (driving time within an hour), and National Freeways 1 and 3, which shows the transportation and location of An-ping port have the advantage to provide fasten services to logistics and businesses and handle great quantity of goods of ocean shipping to entirely fulfill the needs of the potential enterprises who demand to run their business in free trade zone.
Advantages
Provides convenient transportation. Connects to National Freeways 1 and 3 and Expressway 86 via Tainan City outer ring roads (Provincial Routes 1 and 17).
Located near Tainan various industrial zones, driving time is around an hour.
Located near Tainan Airport; providing a convenient transport network.
Sets up automation door control system in connection to the Container Moving Status Query of the Trade-Van to processes electric data transmission via information platform in order to shorten the time of vehicle in and out and speeds up the efficiency of transport operation.
Leasing and Other Costs
The seven FTZs all vary in their leasing costs, though Keelung port, Taipei port, Su-ao port, Taichung port, Kaohsiung port and An-ping port charge land lease and management fees. As Taoyuan FTZ only offers warehouses for rent, there is no land leasing costs.
Free Trade Zone
Land Lease Fee
Facility Lease Fee
Management Fee
Note
Keelung Port Free Trade Zone
approximate 50~70(West11, West33, East20)
approximate 70~110(West7-1, West16-4F, East14-2F)
Base price of the management fee is 15% of the sum of land lease fee and facility lease fee
1. land lease fee=renting area*section value*leasing rate
2. management fee adopt the bid way
3. adopt floating system: gradually adjust according to the change range of the construction cost index or the wholesale price index, limited to 3% per year
Taipei Port Free Trade Zone
approximate 21.25
N/A
$10/ m2/month
Su-ao Port Free Trade Zone
approximate 30
N/A
Base price of the management fee is 15% of the sum of land lease fee and facility lease fee
Taichung Port Free Trade Zone
approximate 12.5
N/A
Management fee is paid in compliance with $73.42/ m2/year of renting area, counting from the operation date
N/A
Kaohsiung Port Free Trade Zone
approximate 6.25-16.88
$11~$81
10% of land lease fee + facility lease fee or bid target(adopt bid way)
N/A
An-ping Port Free Trade Zone
25-46.6
N/A
1 million/UPH/m (bid target is not under 3 million)
N/A
Source:Taiwan Free Trade Zone Website
Investor Service Window
FTZ Recruitment Contacts
Single-service Window (individuals listed are directly responsible for FTZ recruitment matters)
National Port FTZ Service Center
Agency
Position
Name
telephone no. & e-mail
Maritime & Port Bureau, MOTC
Specialist
Chung-yuan Li
02-89788063
cyli01@motcmpb.gov.tw
Taiwan International Ports Corporation (TIPC)
Manager
Chia-chen Hsieh
07-5219000#3330
ayahsieh@twport.com.tw
FTZ Service Center, Port of Keelung (Room 219, 2nd Floor, 6 Gangxi Street, Keelung City)
Agency
Position
Name
telephone no. & e-mail
North Maritime Affairs Center, Maritime & Port Bureau, MOTC
Han-sheng Chi
+886-2-8978-3580
hschi@motcmpb.gov.tw
Business Division, Port of Keelung, TIPC
Supervisor
Ching-shih Liang
+886-2-2420-6283
liangcs@twport.com.tw
Business Division, Port of Keelung, TIPC
Manager
Sheng-che Tseng
02-2420-6574
t12345@twport.com.tw
FTZ Service Center, Taipei Port (2nd Floor, 123 Shanggang Road, Bali District, New Taipei City)
Agency
Position
Name
telephone no. & e-mail
North Maritime Affairs Center, Maritime & Port Bureau, MOTC
Mei-fei Hou
+886-2-8978-2572
mphou@motcmpb.gov.tw
Business Division, Taipei Port, Port of Keelung, TIPC
Manager
Yi-hui Ho
+886-2-2619-6025
hyh97@twport.com.tw
FTZ Service Center, Suao Port (3rd Floor, #1 Harbor District, Suao, Yilan County)
Agency
Position
Name
telephone no. & e-mail
North Maritime Affairs Center, Maritime & Port Bureau, MOTC
Hui-ting Chang
+886-3-969-9083
htchang@motcmpb.gov.tw
Suao Port Branch Office, Port of Keelung, TIPC
Supervisor
Shuo-tang Fang
+886-3-997-2010
fang@twport.com.tw
FTZ Service Center, Port of Taichung (No. 2, Taiwan Boulevard, Sec. 10, Wuqi District, Taichung City)
Agency
Position
Name
telephone no. & e-mail
Central Maritime Affairs Center, Maritime & Port Bureau, MOTC
Kuan-chao Tiao
+886-4-2664-2531
kctiao@motcmpb.gov.tw
Business Division, Port of Taichung, TIPC
Manager
Mei-hsiu Lin
+886-4-2664-2254
hsiu@twport.com.tw
FTZ Service Center, Anping Port (25 Xingang Road, South District, Tainan City)
Agency
Position
Name
telephone no. & e-mail
South Maritime Affairs Center, Maritime & Port Bureau, MOTC
Mei-hui Shen
+886-6-300-0279
mhshen@motcmpb.gov.tw
Anping Port Branch Office, Port of Kaohsiung, TIPC
Manager
Yong-mao Li
+886-6-265-3014
T01549@twport.com.tw
FTZ Service Center, Port of Kaohsiung (10 Penglai Road, Gushan District, Kaohsiung City)
Agency
Position
Name
telephone no. & e-mail
South Maritime Affairs Center, Maritime & Port Bureau, MOTC
Chih-ming Hsu
+886-7-262-0774
cmhsu@motcmpb.gov.tw
Business Division, Port of Kaohsiung, TIPC
Supervisor
Yen-chao Wang
+886-7-562-2207
T01550@twport.com.tw
For more information, please visit: